Testimonials
These are reviews from those who have either hired us or visited one of our local shows.
The REAL MVP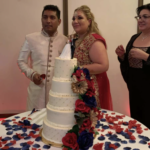 I searched and searched for days for a mirror photo booth for my wedding ceremony. I had the worst of luck, they were either booked or their prices were ridiculous! But thank god we found KARAOKE HOUSTON! Since the beginning my experience was amazing! Their customer service is phenomenal! And the prices too! James was very punctual. He was friendly and very helpful with how to use the mirror! I loved my memory book and the set up was amazing! I will definitely recommend him to everyone! On the most important day of my life he came through and the guest loved the experience. Thank you KARAOKE HOUSTON you guys rock!
Thank you Denise!!  It was a beautiful wedding and your guests were friendly and respectable to equipment, props and me.  It was an enjoyable evening for me as well!  Also, I loved the Turkish coffee!
Denise
Best Sound In Town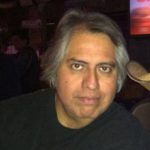 As a life long musician and sound man, I would say James Boyte has one of the best professional shows I go to. Furthermore, his Sound system is the best of any one I know his sound is excellent and better than most DJ's or bands I know of. I would highly recommend his company "Karaoke Houston" for any event.
Thank you for the kind words Mario. You know James prides himself in his sound as it brings out wonderful talent such as yourself who appreciate it. Stay talented my friend.
Mario De La Cruz
Super friendly, great at what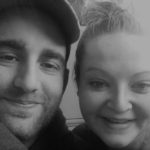 Super friendly, great at what they do, fun!!!
Thank you Ashlee! We value your input!
Ashlee Mullins
Live oak
Class Act!
If you want to hire a DJ for a family affair, school or church event or an all adult event or wedding, look no further! James and his team are a CLASS ACT and I have relied on him for events for he last 7 years. He has truly watched my daughter grow up at her birthday parties and school events. He helped make lots of memories for our events! Can't wait until the next one!
Thank you Christy.  It has been an honor getting to know you and your beautiful family.  You are the type of client that makes this industry worth it. We have made some life long relationships in this business.  Not many, but a few, and you and your family are one of them.  Thank you for referring to us as a class act. That is quite a compliment.
Christie Feeley
Individual
One of the best shows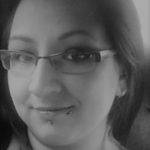 One of the best shows out there. I had so much fun doing karaoke. Will be looking up where all their shows are from now on.
Thank you Cassie.  Very kind of you.
Cassie Montoya
James Was Awesome!!!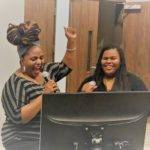 James was awesome loved the music very nice and professional.
Short, Sweet And To The Point!! Thank you Sharita for trusting us with your important event! We hope to serve you and your congregation again in the near future!!
Sharita Mayo
Should You Sing "Tennessee Whiskey"? I Don't Know. But I Do Know Dawne is the Best!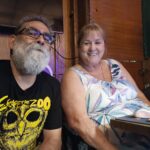 Look, I'm no expert on karaoke or the hardworking Houston emcees who host the fun (and, dare I say, essential) karaoke gatherings at our local bars and restaurants. Although I've subjected actual thousands (sorry, y'all) to my best vocal attempts over the years – and, yes, I did once do extensive research to report on the city's "karaoke superstars" for Houston Press – I'm still mostly a fan and not an authority on H-town's "best" karaoke jockeys. So, you'll just have to take my very subjective word when I say the best KJ I've met in my various karaoke pursuits is Dawne Brickwedel Ferris. So you don't see this as pure bias (because look how cool we look together in this photo I took recently), here are my reasons.
First off, Dawne is a brilliant singer, which obviously isn't a prerequisite for running a karaoke night. I only bring it up because my wife, my brother, sister-in-law and I once took our singing selves on a karaoke road trip to Bourbon Street's "world famous" (read: lone) karaoke bar, The Cat's Meow. The KJ there was like a Chicago Bulls opponent trying to defend Jordan in the '90s – he just grabbed and would not let go of the mike. This fellow allowed himself a whole-ass song between each patron. Besides being an unchecked egomaniac, his voice was thinner than gas station 1-ply. Dawne is a skilled vocalist (her rendition of Rita Coolidge's "We're All Alone" dropped my jaw like a crisp left hook) but you practically have to beg her to sing, which I do frequently because I enjoy real talent. She understands she could be the singing star, but she always allows the crowd to shine.
In fact, Dawne's family includes others who also have beautiful voices. That might be the good luck of genetics but most likely it's because Dawne encouraged them along the way, something she does quite well with her karaoke faithful. She cheers on singers like every other KJ, but it feels genuine and that emboldens us to try new things, which is never a bad thing in karaoke or in life. She knows her clientele and puts them in comfortable places when that's required. A friendly word, or a reminder that they slayed the last time they sang "Bohemian Rhapsody" or "Tennessee Whiskey" (just kiddin' – no one slays that song, y'all please stop trying already), or getting the room to respond positively no matter how good, bad or drunken the effort – she's got lots of ways to support singers. All that encouragement makes for a good experience for performers which in turn makes for a good experience for the audience.
Like anyone else on the job, Dawne lives a whole world outside of karaoke, a real life with real life problems sometimes. Since I've known her, she's never let those matters get in the way of her patrons' good times. And there have surely been times when she's leaned into the friendships she's made from the job, too, for her own support. We count on her being there and she reliably makes her gigs, which are easy to find via her social media pages. In other words, for lots of us she's a lot more than just someone who calls up the song you wanna sing (yes, even "Tennessee Whiskey").
Best of all, she keeps the evening fun wherever she's emceeing. That's the main component of a night at karaoke, after all. Because she loves music and people, the most important part of the gig also seems to be the part that comes easiest to her. I know I'm no expert, but if I only had one vote to cast for the area's top KJ, I'd cast mine twice for Dawne.
Jesse Sendejas
Karaoke Houston is Amazing!!!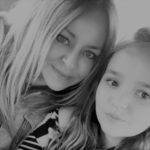 An Amazing Review! Thank you Jolie!
Just about every Friday night, I take my daughter Faith, to Live Oak for karaoke. We have been to a couple of other places for karaoke however Karaoke Houston is the best by far. The atmosphere is awesome and we see the same people each time. That says a lot. Repeat customers is a good thing. We have become friends with them and we always enjoy seeing one another as well as listening to each one sing. Singing is my daughter's passion. I completely support her in this. It's such a blessing to hear her sing. Couldn't think of anything better to do. I also enjoy my boys too. My children are my life! But I will say, James, of Karaoke Houston is a really great person. He does such a great job. I highly recommend that anyone who wants to have a great filled night with karaoke, should come here! This is a family friendly place and everyone is nice and respectful. Looking forward to many more great evenings here!
Thank you for the amazing review Jolie.  Everyone enjoys Faith on the mic. What a talented daughter you have. Also, you need to get on the mic more often. It's obvious where Faith gets her talent.  Thank you for this kind review and we hope to see you at our shows for years to come.
Jolie Freeman
Best Karaoke Dj/ Kjs in Houston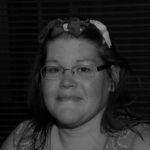 Karaoke Houston is the best Karaoke and Dj service ever. I've been to a few of their events and they have done events for me. I highly recommend this company for your next event. You'll never get anyone better. Oh and the owners are so kind and no job is to big or to small. They get the job done.
Thank you Sarah.  It means a lot to us to receive such a kind review from you.
Sarah Havens-Woods
Singing with Karaoke Houston is Awesome!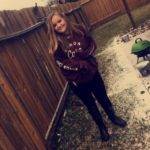 Singing is such a huge part of my life and When you're looking for somewhere to sing make sure to stop by one of James' Karaoke shows in Houston. My Mom and I started going to Live Oak Bar & Grill about 8 1/2 months ago and I'm so happy we did. The atmosphere is really nice especially out on the patio, each time we are there we are always greeted by familiar faces and such sweet people. James is the best DJ ever!!! what's really cool is you can download the "SongBooks" app and use his code to put in your song request. If you haven't been to Live Oak or to any of the other places where Karaoke Houston is at then you should check it out very soon you'll be glad you did!
Thank you Faith! It has been a pleasure to get to know you and your mom.  You both are a valued part of our show.  Everyone enjoys listening to you on stage.  Keep up the singing! You sound amazing!
Faith Freeman
Karaoke Houston exceeds my expectations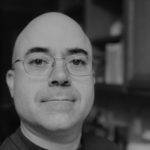 "This is my fourth or fifth experience with Karaoke Houston, and my second booking.  I won't use anyone else.  James is the perfect DJ, as far as I'm concerned.  He shows up on time (early!)  He knows how to read the crowd for DJ tracks when no one is singing.  He flows easily to karaoke tracks when people want to sing.  There is an app you can get on your phone to send him requests on the fly, without leaving your seat.  The track library is practically limitless.  I really enjoyed the KaraokeHouston customer portal to build a playlist for my event, too.  You don't have to do it, but It was super easy and fun.   Karaoke Houston even keeps a record of the tracks you sing.  So when you use them again, they can show you what you sang in the past!  KaraokeHouston exceeds my expectations."
Thank you for the kind review Bram.  And thank you for always being there to get the party started!  The first singer is always the most difficult to get on the microphone.. Your a STAR!!
Bram Weisman
The best K.J's ever so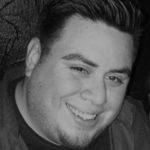 The best K.J's ever so much fun with you guys in all the spots I have seen you at
Thank you for the review Rob.  We have missed you singing on our shows.
Robert roldan
Best DJ around!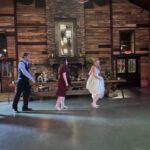 James (DJ Hitman) is an amazing DJ. He has mastered his craft of KJ, DJ, Mixing Music and Sound. I met him years ago at a local karaoke Bar. He made my daughters and I sound amazing and made Karaoking fun. 2 years ago, I hired him to DJ my Middle daughter's wedding. I can't say enough about how professional he was! He took care of everything from the beginning until the end. He even had a photobooth and customized backgrounds. He got the guests up and dancing and helped the bride and groom earn lots of money with the money dance. I HIGHLY recommend James and Karaoke Houston for any event. 2 weeks ago, I hired him to do my youngest daughter's wedding. Again…. Everything went without a hitch! He is amazing!
Dawne Ferris
The BIG reunion and a BIG SUCCESS! Thank you, James!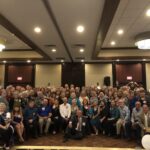 I am SO HAPPY with James and Karaoke Houston! He managed the music for our event PERFECTLY! He used mostly songs from a playlist we submitted to him, but when the occasion was appropriate, he was able to go outside the box and give us what was appropriate at the time. A top-notch DJ with top-notch equipment and accommodating in every way.
Bob Blumrick
Awesome Experience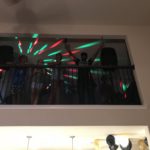 THANK YOU James from Karaoke Houston for helping make my husband's birthday party a success…DJ/karaoke was a hit for every age!
James was wonderful…he came early to set up and he even handled our special requests with no issues. He also kept the crowd entertained; I loved the light show provided!
Thanks again for a job well done and we will definitely use your services again!
Shannon Groves
Holiday Office Party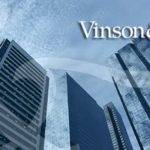 Thank you very much (James) Karaoke Houston for another wonderful office holiday party. Everyone had a great time! We had some wonderful Karaoke singers that brought the house down. We appreciate your courtesies and professional services.
I appreciate the feedback.  I'm sure the group needed a release after the hard work you all put in on a daily basis.  Have a wonderful 2019 and hope to see you at years end again!!
Rhonda Acrey
Vinson & Elkins LLP
I love ❤️ going to Karaoke Houston's Shows!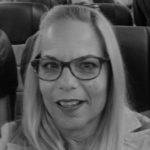 I love ❤️ going to these shows always has the song I want to sing ? ? Shows are ? -also many talented people ????‍⚕️??‍???‍? show for these shows!
Thank you! It is always a pleasure having you at our shows.  Your song selection is always upbeat and refreshing! Go Astros!!!
Gigi Evie Schleeter
"Always a GREAT time with KJ Dawne!"
I love to karaoke on the weekends at my neighborhood bar. Dawne with Houston Karaoke is the DJ both Friday and Saturday nights. Dawne is not only talented, encouraging and fun; she is passionate about her job. When I first started singing Karaoke, I was very nervous getting up in front of everyone to boast a song that sounds great in the car, but not so much on a microphone. She made me comfortable and gave me confidence. She still helps me if I need it, sings backup and sings duets. I love the fact that she saves a song list under my name so when I want to sing, she has a list of songs that I have previously sung. Dawne truly has an ear for music and challenges me to try other songs that compliment my voice… I am not by any means a professional, but I have a lot of fun singing and that's why I always going back!
Thank you Dawne for your professionalism and expertise. I highly recommend that those in need of a Karaoke DJ hire you.
Kriton
Always a fun time with the DJ Hitman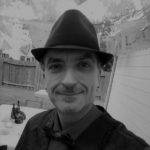 Fun Times – I have been going to shows with James about 7 years now.  I always appreciate that, whether it's me or someone new to his shows, you are always in the lineup to sing once you have checked in to sing. There's no signing up for a new song constantly.  They have one of the best varieties of music to choose from as well.
Thank you for the kind words JR.  You have supported our company and been a wonderful friend for years.

JR Rose
Memorable Experiences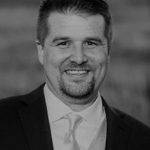 I have been attending shows with Karaoke Houston for just around 6 years. Every time I attend, I am greeted on a personal level and treated with respect. Every KJ or DJ I have met thru this company is professional. The selection of music is by far the most I have seen with any karaoke show. I suggest that if you are ever in the Houston area you find a chance to attend one of these shows, I promise you will have a good time!
Thank you Nathan Coray. Your recommendation means so much to us.  Thank you for taking the time to leave us an honest review.
Nathan Coray
Copper Entertainment
LEAVE US A REVIEW?
Have you seen us live? Either at a private event or live public performance? PLease leave us a review.