Animated Start Screens
From your company logo to a bride and groom turned into bobble heads, we can create custom animated start screens for the photo booth.  This is the first thing your guests will see when they approach the photo booth.  This is a great way to brand your event and make their photo booth experience unforgettable.
The Mirror Me Photo Booth
I think the most common reaction we get from those who experience this photo booth is "Wow!". It literally looks like a full size mirror.  But this mirror has some extraordinary features.
Add Emojie's To Your Photo
What better way to express your emotions than with emoticons! Add them to your photo before printing.  This adds a personal touch to every photo.
Sign Your Photo
Make it yours! Sign your name or your slogan to your photo prior to printing.  This truly makes it your work of art!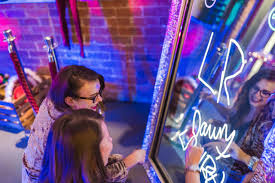 Great Selection Of Free Back Drops
We have a wonderful selection of free back drops for your event! Check out our back drops here!
Next Steps...
Get an instant quote for your upcoming event. Click the green button and enter your event date.