TO ENTER, APPROACH THE KARAOKE HOST ON A LISTED QUALIFY DATE BETWEEN 8:30PM-10:30PM AND LET THEM KNOW THAT YOU WOULD LIKE TO ENTER THE COMPETITION! HE WILL COLLECT YOUR ENTRY FEE, NAME, PHONE NUMBER & EMAIL AND THEN HAVE YOU SING YOUR SONG WHEN YOU ARE UP IN ROTATION!

Three Month Format 12 Weeks Plus Final Competition (You may attain entry into the semi-finals by qualifying on any "Qualify" night) There is a $10 Entry Fee.  All monies are added to Grand Prize Pot.
04/05/2022 TUESDAY
04/07/2022 THURSDAY
04/12/2022 TUESDAY
04/14/2022 THURSDAY
04/19/2022 TUESDAY
04/21/2022 THURSDAY
04/26/2022 TUESDAY
04/28/2022 THURSDAY
05/03/2022 TUESDAY
05/05/2022 THURSDAY
05/10/2022 TUESDAY
05/12/2022 THURSDAY
05/17/2022 TUESDAY
05/19/2022 THURSDAY
05/24/2022 TUESDAY
05/26/2022 THURSDAY
Semi-Finals
05/31/2022 TUESDAY
06/02/2022 THURSDAY
06/07/2022 TUESDAY
06/09/2022 THURSDAY
06/14/2022 TUESDAY
06/16/2022 THURSDAY
06/21/2022 TUESDAY
06/23/2022 THURSDAY
July 9th 2022 (Saturday) Final Competition (There is no buy-in to the Final Competition) Only The Top 30 Contestants Will Compete
The Qualify Rounds And Semi-Final Rounds Start At 8:30pm on the listed nights.  The Final Competition Starts at 8PM.  Be there 20 minutes early for check in!
The Top 30 Contestants Will Move Forward to The Final Competition. 
You should have received your competitor number.  If not, please text 832-655-2961
Keep in mind that the final competition will include additional categories such as stage presence, lyric memorization and audience reaction.  This will help prevent duplicate scores and make the event more challenging.
How You Are Judged - Semi-finals are judged strictly on vocals
70% Talent / 30% Audience Reaction (FINAL ONLY)
Vocal talent is the most important quality that a judge will look for.  This includes being on key and in time.  Vocal talent accounts for 50% of your overall score and will be scored while you are behind a backdrop during the first minute of your chosen song.
Stage Presence will account for 10% of your score.  This means, move around and engage your audience.  We have wireless mics for a reason!
Lyrical memorization is another factor.  I know, it's only karaoke.  However, learning the lyrics will afford you more freedom to engage the audience.  This section accounts for 10% of your overall score.
Crowd Reaction is a necessary requirement.  We strive to keep the contest fair and based on talent alone.  However, getting to know those at the establishment will help earn you up to 30% on your vote.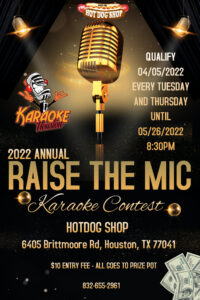 Judging Process
One thing that can create animosity and resentment is an unfair contest.  One where friends are chosen over talent.  It has happened to me, so I know the feeling.  Our goal is to bring the karaoke community together, not create division.  therefore, the competition will be judged as follows.
Qualify Rounds - Will be scored via secret in-house judges.  This round is more of a rehearsal for the semi-finals.  Therefore, it is more important that you just have fun and do your best.
Semi-Finals -  Will be judged via professional panel of live entertainers (Non-Karaoke) who do not frequent "The Hotdog Shop".  They will view and rate via Zoom.  All Scores will be posted on this website, so bookmark this page.
Top 30 Contestants Will Progress To The Final Competition.
Finals - We will have a live panel of professional musicians who have NEVER been to "The Hotdog Shop" and have NEVER been to a karaoke show, and to the best of our knowledge, do not know any of the contestants, employees or owner of "The Hotdog Shop".  Our finalists will compete for a high score from our panel of judges.  In the case of a tie for first, second or third place, there will be a "Sing-Off" for the tied place.
*No employees or family of "Karaoke Houston" or employees or family of "The Hotdog Shop" will be allowed entry into this competition.    Again, This competition will be judged fairly and with complete transparency of scores throughout the semi-finals and final competition.